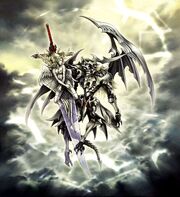 Introduction
Edit
You gain access to this place by defeating its Master Guardian, Grendel the Sword Master. It is an area where many treasures and gathering spots are seen here, much like the scarlet tower in Chapter 7. It is home to many griffins, notorious for being able to destroy your items, so come prepared. This is also where you can spot a minotaur and the venomous skull dragon for the first time. More monsters will be in this area as you progress through the later chapters in the game.
Monsters
Edit
Blaze Goblin
Skeleton
Bone Assassin
Skull Killer
Phantom
Phantom Peril
Minotaur
Gozu Tenno
Skull Dragon
Hell Dragon
Griffin
Spica
Bold Spica
Master Guardians
Edit
Ad blocker interference detected!
Wikia is a free-to-use site that makes money from advertising. We have a modified experience for viewers using ad blockers

Wikia is not accessible if you've made further modifications. Remove the custom ad blocker rule(s) and the page will load as expected.