This is the right-hand (in the red suit) NPC on the Slayers Guild window. Storage allows you to :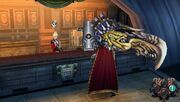 Store and Remove Items from your Inventory
Switch Equipment, equip Cards, choose your Battle Art, and set up Ensembles
Sell Items either In Hand or In Storage
View the entries in your Compendium, or the Monster Encyclopedia
Change the hairstyle, hair color, and facial features of your character. Unfortunately, once you have chosen the voice, it CANNOT be changed in-game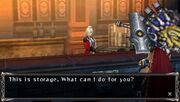 Ad blocker interference detected!
Wikia is a free-to-use site that makes money from advertising. We have a modified experience for viewers using ad blockers

Wikia is not accessible if you've made further modifications. Remove the custom ad blocker rule(s) and the page will load as expected.