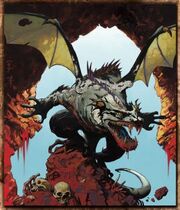 Nidhogg
Title

Dragon of Murderous Rampage

Characteristics

Class

Beast

Element
Appears in
Breakables

Tail

Weak Points

Underbelly

Stun Points

Head
It is said that this black dragon will one day usher in the twilight of the gods themselves. As the end times near, its roar will summon an unholy multitude of beasts.
Alternate Forms
Edit
Wild Nidhogg
A supreme beast who all other monsters respect and obey.It pale skin exudes a toxin so evil that it defies th purity of Yggdrasil,the world tree.
Enraged Nidhogg
An evil dragon that is said to have devoured Yggdrasil,the world tree.Its inky black scale bear the indelible marks of hell's inferno.
Item Drops
Edit
Wyvern Bone
Wyvern Fang
Wyvern Talon
Wyvern Hide
Wild Wyvern Thorn ( Wild Nidhogg )
Wyvern Tongue ( Enraged Nidhogg )
Wild Wyvern Spine ( Wild Nidhogg )
Deadly Wyvern Eye ( Enraged Nidhogg )
Wyvern Tail ( Breakable )
Ad blocker interference detected!
Wikia is a free-to-use site that makes money from advertising. We have a modified experience for viewers using ad blockers

Wikia is not accessible if you've made further modifications. Remove the custom ad blocker rule(s) and the page will load as expected.