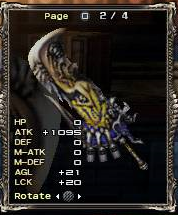 Introduction

Edit
The heavy blade will slow you down as well as raise your pulse faster than one-handed swords, but the reach is excellent and each blow delivers lots of damage. Two-handed swords are the only two-handed weapons that let you equip shields. In addition to defense, shields can also be used to reflect attacks on the foe with a well-timed block. As you become more proficient, you will also be able to follow a successful deflection with a counter-attack by pressing [cross]. After dodging an enemy's attack, you can press [square] to perform an Evade Strike. Hold down [circle] to charge your magic power and use charge spells. As your magic proficiency increases, the amount of time needed to charge will decrease. As upgrades progress, you could potentially unlock other paths, so be sure to keep options and eyes open for these branching paths.
Battle ArtsEdit
Rampaging Blade weapon proficiency lvl. 1
Rampaging Blade lets you charge forward while swinging the sword. It will easily knock away any smaller monsters in your path. 

This skill makes your character charge forward for 4 small hits followed by a wide slash that does a medium amount of damage.
Shadowless Prayer weapon proficiency lvl. 11

Shadowless Prayer is risky but powerful. If you are attacked when in the stance, you will quickly move behind into your foe's blind spot (at the back) and attack them. As your weapon proficiency increases, you will be able to perform an additional attack with [triangle] . A "counterattack" art, your character assumes a stance for (~5 sec). It has a startup time (~1 sec) so don't do it at the moment they attack.
True Radiant Slash weapon proficiency lvl. 15
True Radiant Slash is a charge attack in which you swing the sword around you to build up power before slamming it into its target. You can also hold down [triangle] to charge up and increase the damage done.

 Be careful when using this battle art as it can leave you standing there and the consquences may be dire.
Nirrti weapon proficiency lvl. 20
Nirrti will greatly increase the speed and number of your attacks, though you'll lose the ability to block. As you continue to land attacks, you will be able to prolong their effects. It's vital to evade attack as you strike your foes. 

Also you cannot be knocked down by most monsters and some boss moves.
Two-Handed Sword Enhance Tree
Edit
*Cannot be upgraded any further. (Updates in progress)
| | | | |
| --- | --- | --- | --- |
| Name | ATK | AGL | LCK |
| Bronze Sword | 313 | 21 | 20 |
| Beast Bronze Sword | 410 | 21 | 20 |
| Bronze Sword Butcher | 526 | 21 | 20 |
| Bronze Sword Striker | 597 | 33 | 20 |
| Bronze Sword Skinner | 631 | 21 | 20 |
| Bronze Sword Breaker | 725 | 40 | 20 |
| Bronze Sword Maximum | 772 | 40 | 20 |
| Claymore | 716 | 21 | 24 |
| Hard Claymore | 676 | 21 | 24 |
| High Edge Claymore | 776 | 21 | 24 |
| Assault Claymore | 930 | 21 | 32 |
| Excalibur | 894 | 21 | 20 |
| Zweihander | 680 | 21 | 16 |
| Zweihander Evil | 757 | 21 | 16 |
| Z Zweihander Deathmaster | 900 | 21 | 16 |
| Hunting Sword | 426 | 21 | 20 |
| Arc Hunting Sword | 490 | 21 | 24 |
| Power Hunting Sword | 590 | 21 | 28 |
| Dominion Hunting Sword* | 652 | 21 | 32 |
| Cherubim Hunting Sword | 698 | 21 | 28 |
| God Hunting Sword* | 720 | 21 | 32 |
| Zero End | 556 | 26 | 20 |
| Coated Zero End | 368 | 26 | 20 |
| Zero End Assault | 729 | 33 | 20 |
| Zero End Reaper | 858 | 40 | 32 |
| Runeblade | 816 | 21 | 20 |
| Runeblade Holy | 897 | 21 | 24 |
| Runeblade Paladin | 985 | 21 | 28 |
| Runeblade Enhancer | 981 | 21 | 28 |
| Killer Edge Zero End | 702 | 21 | 20 |
| Death Kopis | 546 | 21 | 20 |
| Death Kopis Blaze | 645 | 21 | 20 |
| Death Kopis Reaper | 707 | 21 | 20 |
| Death Kopis Abyss | 787 | 21 | 20 |
| | | | |
| --- | --- | --- | --- |
| Name | ATK | AGL | LCK |
| Tyrfing | 330 | 17 | 20 |
| Sacred Tyrfing | 621 | 17 | 20 |
| Saint Tyrfing | 842 | 17 | 20 |
| Master Tyrfing | 1000 | 15 | 20 |
| Chaos Tide | 685 | 21 | 20 |
| Chaos Tide Hardgear | 779 | 21 | 24 |
| Chaos Tide God Killer | 919 | 21 | 28 |
| Balmung | 886 | 21 | 16 |
| Balmung Hard Killer | 970 | 21 | 16 |
Great Sword Edit
| | | | |
| --- | --- | --- | --- |
| Name | ATK | AGL | LCK |
| Great Sword | 384 | 21 | 20 |
| Great Sword Butcher | 455 | 21 | 20 |
| Great Sword Skinner | 659 | 21 | 20 |
| Great Sword Assault | 786 | 21 | 16 |
| Great Sword Hellfire | 881 |   21 |   16 |
| Great Sword Final* |   952 |   21 |   12 |
| Great Sword Flame | 795 |   21 |   12 |
| Myrmidowalz |   |   |   |
| Myrmidowalz Powered |   |   |   |
| Myrmidowalz Heavy Attack |   |   |   |
| Myrmidowalz Hercules |   |   |   |
| Myrmidowalz Flame |   |   |   |
| Dainsleif | 623 | 21 | 20 |
| Dainsleif Nights | 734 | 21 | 20 |
| Dainsleif Dark Knights | 800 | 21 | 20 |
| Dainsleif Darkness | 861 | 21 | 16 |
| Dainsleif Twilight | 835 | 21 | 16 |
| Dainsleif Darkness | 861 | 21 | 16 |
| Joyeuse | 913 | 21 | 20 |
| Joyeuse Sentinel | 989 | 21 | 20 |
| Joyeuse Beast Killer | | | |
| Bloodsword | 753 | 21 | 24 |
| Bloodsword Zwei Hunt | 877 | 21 | 28 |
| Bloodsword Absolve* | 1011 | 21 | 32 |
| Bloodsword Zwei Edge | 831 | 21 | 20 |
| Killer Edge Bloodsword | 908 | 21 | 20 |
| Bloodsword Absolve* | 1011 | 21 | 32 |
| Hrunting | 828 | 21 | 20 |
| Hrunting Evil | | | |
| Hrunting Abyss | | | |
| Hrunting Inferno |   |   |   |
| Hrunting Chaos | | | |
| Mimung | | | |
| Mimung Flamestrike | | | |
| Mimung Exotic Slayer | | | |
| Dragoon Buster Inferno | | | |
| Dragoon Slayer | 576 | 21 | 20 |
| Dragoon Buster Strike | 668 | 21 | 20 |
| Dragoon Slayer Limited | 739 | 21 | 20 |
| Dragoon Slayer Exotic | 873 | 21 | 20 |
| Dragoon Slayer Hellfire | 803 | 21 | 20 |
| Sword of Orios | 749 | 21 | 20 |
| Deathsword of Orios | 865 | 21 | 24 |
| Darksword of Orios | 938 | 21 | 24 |
| Beastsword of Orios | 996 | 21 | 20 |
| Watersword of Orios | 1086 | | |
| Purgatory of Orios | 1086 | | |
| Mimung | 916 | 17 | 20 |
| Mimung Flame Strike | 994 | 300 | 42 |
| Mimung Exotic Slayer | | | |
| Dragoon Buster Inferno | | | |
| Slayer Sword | 472 | 17 | 28 |
| Attack Slayer Sword | 666 | 21 | 28 |
| Power Slayer Sword | 806 | 17 | 28 |
| Strike Slayer Sword* | 810 | 15 | 20 |
Ragnarok Edit
| | | | |
| --- | --- | --- | --- |
| Name | ATK | AGL | LCK |
| Ragnarok | 536 | 21 | 20 |
| Ragnarok Dusk | 689 | 17 | 20 |
| Ragnarok Finale | 824 | 17 | 20 |
| Ragnarok Reborn* | 932 | 17 | 20 |
| Laevateinn | 745 | 21 | 20 |
| Laevateinn Chaos Flame | 902 | 21 | 20 |
| Laevateinn Hellfire* | 1004 | 26 | 20  |
| | | | |
| --- | --- | --- | --- |
| Name | ATK | AGL | LCK |
| Ridill | 609 | 21 | 20 |
| Ridill Beast | 693 | 21 | 24 |
| Ridill Hunt | 905 | 21 | 20 |
| Ridill Genocide |   |   |   |
| Sword of Tartaros | 889 | 21 | 24 |
| Greatsword of Tartaros | 966 | 21 | 24 |
Ach Albars Edit
| | | | |
| --- | --- | --- | --- |
| Name | ATK | AGL | LCK |
| Ach Albars | 711 | 17 | 24 |
| Ach Albars Evil | 791 | 17 | 24 |
| Ach Albars Death Drive | 869 | 17 | 24 |
| Ach Albars Chaos Flame | 950 | 17 | 24 |
| Ach Albars Hellfire* | 1015 | 21 | 28 |
| Mal Meadworth | 820 | 21 | 20 |
| Mal Meadworth Powered | 948 | 21 | 20 |
| Mal Meads Assault | 1019 | 21 | 20 |
| Mal Meadworth Hercules | 1091 | 21 | 20 |
| Mal Meadworth Flame | 910 | 21 | 20 |